By Gerald McLean
The 'Big Issue' of our time is immigration; it consumes public debate as it once did in the 1950's, and although 77% (2015) of the UK population stated their wish to reduce immigration and provide greater opportunity for those already living in the UK, the government of the day failed to act; leading to 'Brexit' (2016). Yet, numerous organizations such as 'The Migration Observatory' at the University of Oxford, point out the need for migrants and their beneficial effects to the UK economy. To build and maintain England, migrant workers are needed, if only to address 'housing needs' created by their presence, which in turn fuels the economy.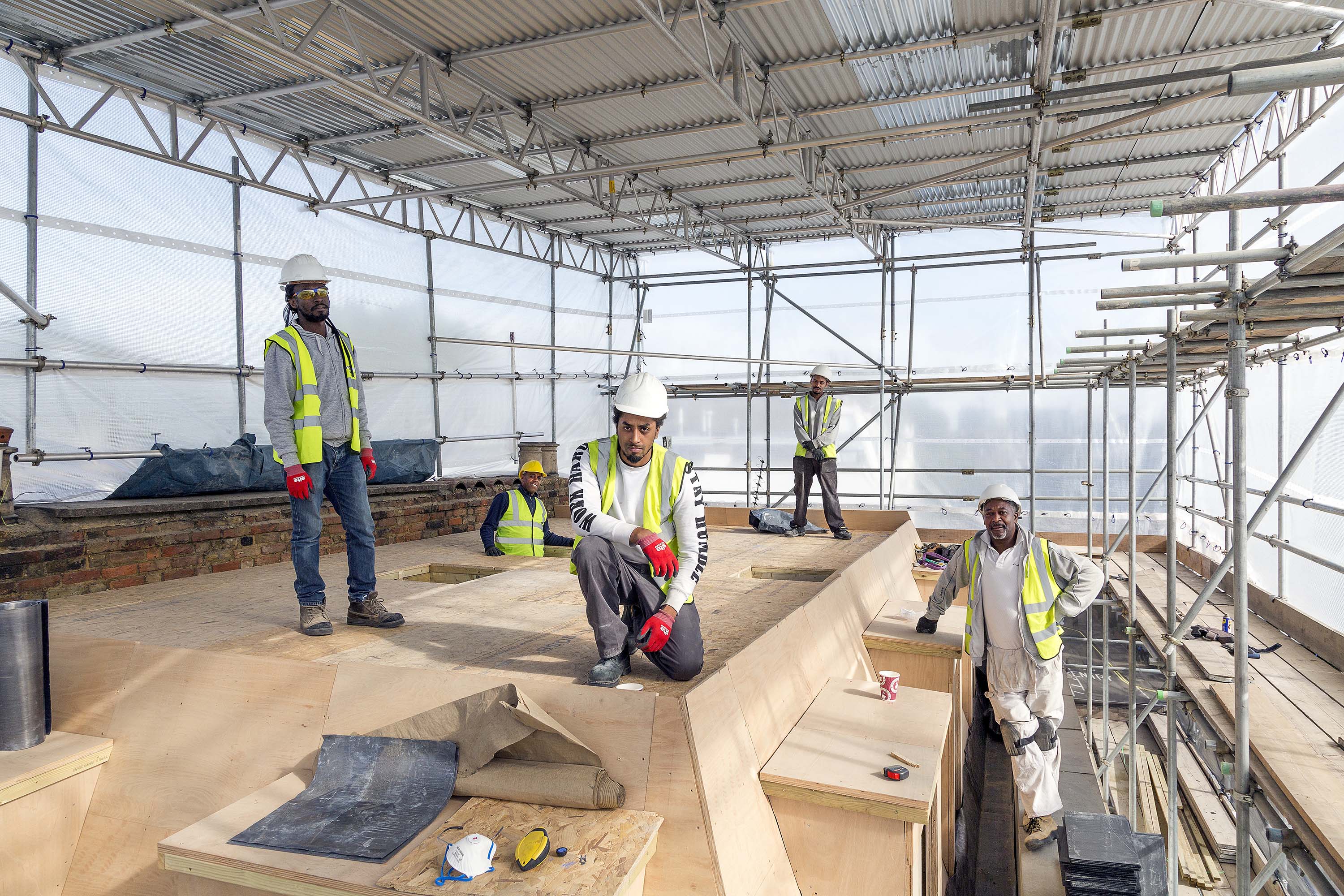 The CIOB (Chartered Institute of Building) 2015 publication 'Analysis on Migration in the Construction Sector' cites 17.3% of workers in construction were non-UK born, with more than a third of those coming from the EU. Thus, 11.53% are from elsewhere. The CITB (Construction Industry Training Board) in their report 'Workforce Mobility and Skills in the UK Construction Sector 2015', sites BME (Black and Minority Ethnicity) make up only 4% of the construction workforce, however number 10% of UK society.
BME's, for the most part, are based in London, yet on visiting the largest regeneration project in Europe (2016) Greenwich Peninsular, the visual evidence and analytical facts appear polls apart. So what might a mixed 'UK' and 'non-UK' born BME building site group of workers look like? Who are they?
In London's Westbourne Grove, a small extension project is in progress; meet 'The Ultimate Boy Band'. The question; "In a world where money wasn't a consideration, what would you do with your life?" was asked of each.
Tom – Born in England, his feet are rooted in English society, but his heart is elsewhere. Having traveled the West Indies, America, Europe, and Asia, he explains, in a world where finances and the responsibility of fatherhood were not a factor, he'd keep moving. "There's a lot of paths out there, but I suppose they all lead to the same place."
Sam – A Ghanaian national, divides his private time between preforming as a DJ, playing football, and working with disabled people through charitable organizations. He's unsure as to the question, but would like to return to a Ghana with opportunities, "I'm happy with my life, just the location".
Neville – Describes himself as Jamaican/British. He played football with Ian Wright as a boy, and managed betting shops in the past, but found the hours grueling. Soon to retire, his intention is to live a life of bliss, "Life on a beach" in the home he built in Jamaica.
Martin – Born in England, he describes his nationality as British. His hobbies include playing the bass guitar, watching ballet, painting portraits, and cooking. Given the freedom to do, as he'd wish, he would most likely focus on hospitality, "something like a builders culinary bistro, where ties are not allowed".
Garman – A Ugandan national and avid Chelsea supporter. His hobbies include football, tennis, and socializing. At first he couldn't get to grips with the question, "…in a world without money, what would be the point in living?" Then after some thought, "…travel, see the world, I'm sure something will turn up".
Each, except Martin who was in charge, struggled with the question in their own way and although they are British residents, all but Martin have a desire to migrate elsewhere or return to their native lands.